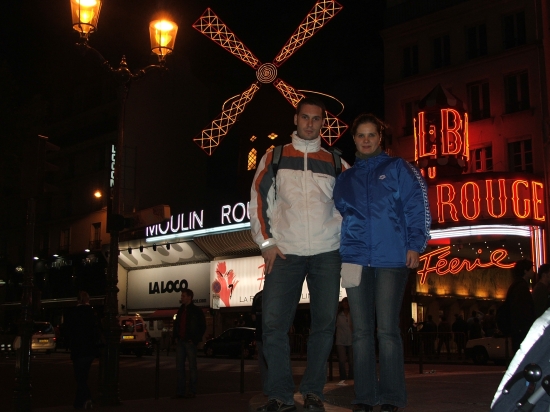 Váltás Magyar nyelvre&nbsp

Vitosa: Paris
At the beginning of October, 2005 Peti and I visited Paris. One of our friends, Tom is working there and we wanted to meet him and visit the city. We had full 4 days to discover the beauty of the city and feel the real France atmosphere. We love that city it was very enjoyable to see those very nice buildings with their historical past. The buildings built in Gothic or Renaissance style are very attractive, nicely suit in the image of the city. Many of our friends had offered different places to visit, so before leaving Budapest we already had quite complex plans of what to see in Paris.
We stopped at the building of the National Opera House, admired the Louvre and its park, we amazed seeing the beauty of the Notre-Dame, and climbed up to the top of the Eiffel-Tower. At night we walked along the Chams-Elysées and took a picture of the lightened Arc the Triomphe and finish the walking in a restaurant eating snails. ;)) We had a tour-guide in Versailles but before that we went to see a motor-bike exhibition. Of course we promenade around Sacré-Couer, took a photo of the Statue of Liberty in Paris and it was a must to see the Moulin-Rouge as well. And we were admiring for 4 days and just did not want to leave the city.
We have to say a big "Thank you" for Tom, thank you for the accommodation, for the morning coffees and for the useful tips. See you in Paris sometimes in the future!

&nbspPhotos/Képek